Harmony Arts Festival, August 2-11 and 'New Works: Sculpture and Printmaking', Bowen Island, August 14 – September 16
Hi everyone!
There's a lot going on at the studio right now as I prepare for two very different events. Here is a taster of some of the new work on show at Harmony Arts and following that a sneak preview of pieces that will be in the Bowen show at The Gallery, Snug Cove.
Hope to see you at either or both!
Large summer vibe porcelain mug…'making tea feel like a holiday' (as one friend described it).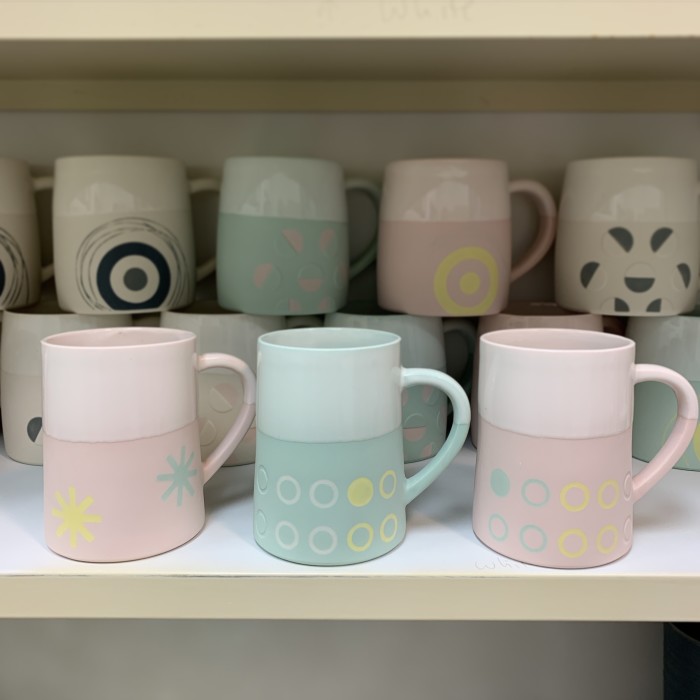 Graphic porcelain 'taper' mugs in sweet summer colours…
Sweet little corked canisters…always a favourite at Harmony Arts!!
More cool graphic mugs in my new large mug design…debuting at Harmony!
A new line of lidded canisters…shown here in dark teal, but available in a variety of colours…come see!!
NEW WORKS: Sculpture and printmaking. Bowen Island exhibition at The Gallery, Snug Cove.
Last year myself an 3 other Bowen artists came together to discuss having a collaborative exhibition on island. In a few weeks time that work goes on display to the public.
My theme and inspiration came from my quiet walks in the woods around Cape Roger Curtis where I do most of my 'good thinking'.
A more visceral response to the life force; the meeting of Human & Nature.
These tall porcelain columns range from 12″ to 22″.
I'm very excited to step out of my usual working practice of designed, functional pieces to create a small body of work that has a deep emotional resonance for me.
Whatever your plans this summer, I wish you all the best for relaxation, fun and good times with the people and in the places you love!
xxRussell